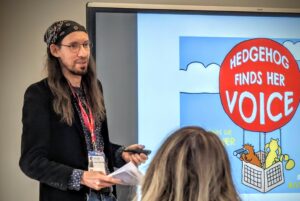 The Hedgehog Has Landed
This week we were delighted to return to Clearwater Academy in Quedgeley to launch Hedgehog Finds Her Voice, a brand new 48 page illustrated story book designed to help young victims of crime feel heard.
Words and Pictures
The book highlights the importance of active listening and how validating someone else's experiences is the first step to helping them recover from crime or trauma. Hedgehog Finds Her Voice also illustrates some of the effects of trauma in an accessible way that will resonate with younger children and generate conversations between children and adults.
"The staff and children at Clearwater Academy were instrumental in helping us to understand what good listening really feels like for children," says John de Gruyther, Community Engagement and Training Manager at Victim Support Gloucestershire. "So, it's fantastic to return here today to for the launch of Hedgehog Finds Her Voice."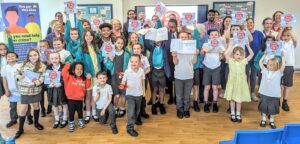 Finding Your Voice
We created the book because children and young people who have experienced crime often tell us they're scared or embarrassed to talk about what happened. Many worry about being blamed. Others imagine the adults in their lives are too busy, or fear that what happened might not be considered serious enough to talk about and they'd simply be told to "get over it," or "just make friends and move on."
One student told us, "This story has helped me to understand that a book is more than writing and drawings it is about understanding what the character actually feels. It is important for people to be heard when they need to be heard as otherwise you will get sadder and sadder."
As well as the children of Clearwater Academy, we also consulted with accredited restorative practice facilitators working in schools, to ensure the book incorporates a restorative conversation.
Invisible Victims
Children are often invisible victims of crime and might have experienced more than they have shared with trusted adults. They might have been unknowingly affected by crime, due to a lack of knowledge about what constitutes crime. Hedgehog teaches young people and adults ways in which they can feel heard, and show them different ways of making a plan to get help when something has worried them.
The Future is Bright
Funding from the Office of the Police and Crime Commissioner means we can share a copy of Hedgehog Finds Her Voice with every primary school in Gloucestershire, as well as using the book with children and families who reach out to Victim Support Gloucestershire for help after a crime.
We'll also be delivering workshops focusing on the themes of the book in primary schools throughout Gloucestershire, helping children to feel more confident in identifying their support networks and how to get help when they need it.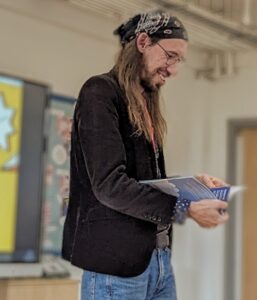 Let Them Eat Cake
We had a great time at the launch event, with amazing support from the children, staff and parents of Clearwater, who turned up to support the event. We ate cake, and gave out signed copies of the book as a thank you for all their help, we even spoke to the BBC who visited the event to interview some of the children about the book.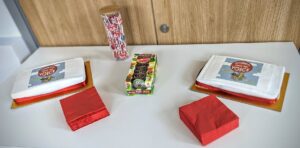 Hedgehog is Available Right Now
The book is available to buy online directly from the publisher and from most online book stores. https://www.troubador.co.uk/bookshop/young-children/hedgehog-finds-her-voice/
Written by John, Photos by Andy 
. . .
If you or your child has been affected by crime then you can contact us via our live chat facility or call our Gloucestershire team on TN 0808 281 2446 (9am-8pm, Mon to Fri) for free and confidential advice.